"Bonny Tiler was initially set up as a small tiling business by my wife Sharon. As a perfectionist and a conscientious worker, it was not long before she gained the reputation of a well respected and talented tiler."
Bonny Tiler meet Bonnie Tyler on The One Show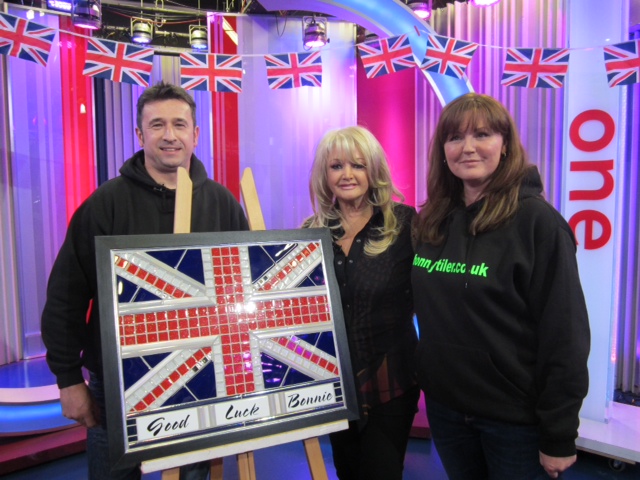 The business went from strength to strength and shortly afterwards we decided to make it a team effort. With my background in plumbing, we now not only tile but are experienced fitters in bathroom and wet room installations. We organise and oversee a team of experienced electricians, plasterers, decorators and builders who are always dedicated to quality, reliability and customer care. In the future we hope to expand further afield serving more people and employing other tilers who have our dedication to perfection.
Our free quotation and design consultation service involves a face to face meeting at a time convenient to you, where we can discuss your needs whether large or small.
The room or area will be measured and a list of your requirements drawn up. We can then advise you on quantity of tiles required, bathroom or wetroom fittings as needed and answer any questions you may have about the tiling or installation work.
We can supply you with various brochures to view at your leisure or work with items you may have already purchased.
Where electrical or building work is required, we will make a further appointment to discuss these requirements in detail with the necessary people.
We will organise and accompany these trades people when they visit your home. Alternatively we can work alongside tradespeople that you may already have in mind.
Whatever your requirements may be, we will endeavour to keep disruption to a minimum. We understand that your home is special and your time precious